InBodyDial
Get accurate and personalized results from the comfort of your home
InBodyDial measures full-body composition based on our professional devices. You'll get accurate and personalized results from the comfort of your home. Measurements are transferred to the InBody APP where you can monitor your progress, share your results and stay on track for your health goals.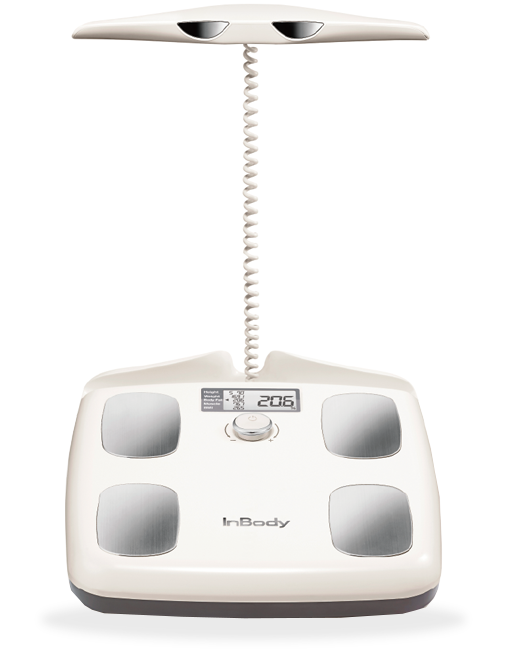 Main Features
Full Body Measurement

InBody provides whole body measurement. With patented thumb electrodes, InBodyDial measures both upper and lower body with top accuracy.

All the data you need in 10 seconds.

InBodyDial is as simple as standing on the device and holding the handle bar. All you need is 10 seconds to get your percent body fat, muscle mass and visceral fat.

Share with your entire family

After each test, your results can be added to the InBody APP. Track your progress anytime, anywhere and share results with your family and friends.
InBody Technology

Full Body Composition
Utilizing InBody's 4 core technology, the H20N measures Weight, Skeletal Muscle Mass, Body Fat Mass, BMI, Percent Body Fat, and Basal Metabolic Rate.

Industry Leader
We are a global, industry leader in body composition technology. Our clients trust us to provide precise and accurate body composition data because they know InBody combines convenience, accuracy, and reproducibility in one easy-to-use device.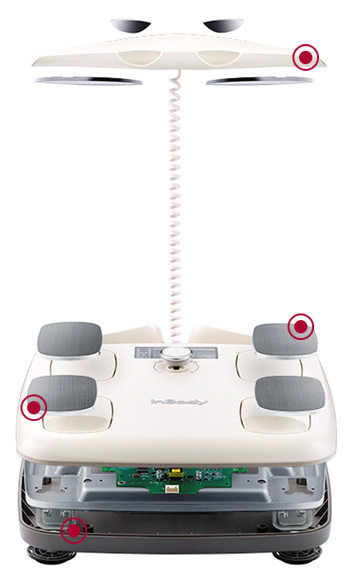 Patented Technology
Our 8-Point tactile electrode technology, with patented thumb electrodes, improves the accuracy of the H20N tests by ensuring a secure and reproducible measurement starting point for each individual.

App Compatibility
By connecting the H20N to the InBody App via Bluetooth, you will gain access to additional outputs and gain the ability to track your full test history along with InBody data from our other linked products.

Specifications
Bioelectrical Impedance Analysis Measurements

Bioelectrical Impedance(Z) : 10 Impedance measurements are taken by using two (2) different frequencies (20kHz, 100kHz) in each of the 5 body segments (right arm, left arm, trunk, right leg, left leg)

Electrode Method

8-Point Tactile Electrode Method

Technology

Direct Segmental Multi-frequency Bioelectrical Impedance Analysis Method, DSM-BIA Type

Body Composition Calculation Method

InBody does not utilize empirical estimations in its measurements. For more information, please refer to our technology page.

Outputs (LCD Screen)

Weight, Body Fat (Percent Body Fat), Muscle (Skeletal Muscle Mass), BMI

Dimensions

310.3 (W) x 356.4 (L) X 58.3(H):mm

Equipment Weight

2.7kg

Applied Rating Current

100 uA

Power Consumption

DC 6V (1.5V AA Battery 4 each)

Display Type

Customized LCD

Storage Environment

-10~70 ℃, 10 ~ 95% RH, 50 ~ 106 kPa (no condensation)

Total Test Time

8 seconds

Operational Environment

10~40℃, 30 ~ 75% RH, 70 ~ 106 kPa

User Weight Range

10 ~150kg

Height Range

50~300cm